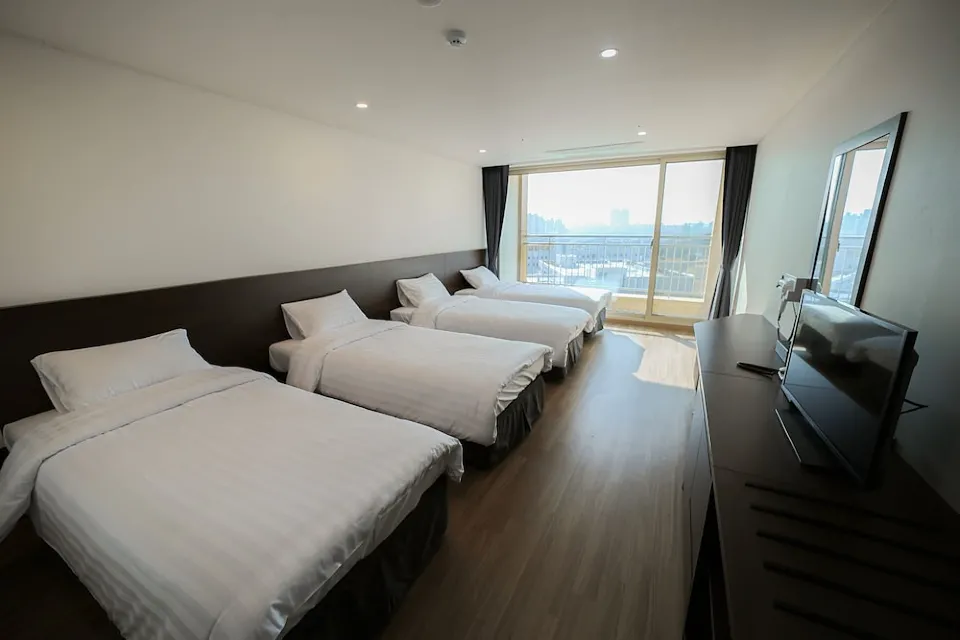 Located in Goyang (Ilsandong), the YMCA Goyang Youth Hostel offers a comfortable stay with easy access to various attractions. Guests staying at this hotel will be pleased to find that Goyang Aram Nuri Arts Center and Ilsan Lake Park are just a short 10-minute drive away.
For those looking to explore further, the hotel's convenient location allows for easy access to popular landmarks in the area. Visitors can venture out and discover the vibrant city of Gwanghwamun, located approximately 13.7 miles (22 km) from the hotel. Gwanghwamun is known for its historical significance and bustling atmosphere. Additionally, guests can also visit the renowned Gyeongbok Palace, situated at the same distance from the hotel.
The YMCA Goyang Youth Hostel provides a comfortable and convenient base for travelers seeking to explore the city's cultural and recreational offerings. The hostel offers a range of amenities to ensure a pleasant stay, including comfortable accommodations and friendly staff. Guests can enjoy their time in Goyang and the surrounding areas, knowing that they have a cozy place to return to at the end of their adventures.
Whether you are visiting Goyang for business or leisure, the YMCA Goyang Youth Hostel is an ideal choice for your stay. With its prime location and excellent facilities, this hotel provides a welcoming and enjoyable experience for all guests.
YMCA Goyang Youth Hostel location:
Places of interest near the accommodation
YMCA Goyang Youth Hostel, located in 97, Aenigol-gil, Goyang-si, Gyeonggi-do, 10311, South Korea, is conveniently located near various touristic places that visitors can explore. With easy subway access, travelers can easily reach these attractions and make the most of their stay.
One of the must-visit places near YMCA Goyang Youth Hostel is the Goyang Aram Nuri Arts Center. This cultural complex is known for its stunning architecture and hosts a variety of performances, including concerts, plays, and exhibitions. Visitors can immerse themselves in the vibrant arts scene of Goyang and enjoy a memorable cultural experience.
For nature lovers, Ilsan Lake Park is a great option. This beautiful park offers a serene environment with a large lake, walking trails, and lush greenery. Visitors can enjoy a leisurely stroll, rent a bike, or have a picnic while taking in the scenic views. The park also hosts various events and festivals throughout the year, adding to its charm.
Another popular attraction near the hostel is the KINTEX (Korea International Exhibition Center). This massive convention and exhibition center hosts a wide range of events, including trade shows, conferences, and concerts. Visitors can check the schedule to see if any events align with their visit and explore the bustling atmosphere of KINTEX.
For those interested in history and culture, the Bukhansan National Park is a must-visit. This mountainous park offers breathtaking views, hiking trails, and ancient temples. Visitors can embark on a hiking adventure, explore the temples, and immerse themselves in the serene beauty of the park. It's a perfect escape from the city and a chance to connect with nature.
To make the most of their stay, visitors can also explore the nearby shopping and dining options. From traditional markets to modern malls, Goyang offers a variety of shopping experiences. Visitors can indulge in local cuisine, shop for souvenirs, or simply enjoy the vibrant atmosphere of the city.
– MAKE YOUR RESERVATION AT THE LOWEST PRICE –
---
97, Aenigol-gil, Goyang-si, Gyeonggi-do, 10311, South Korea