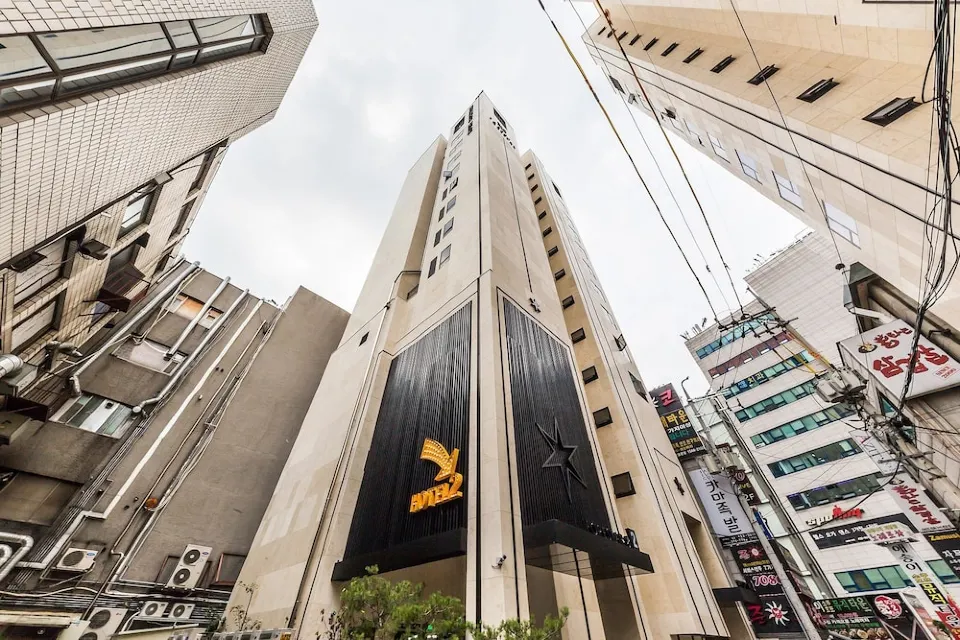 Located in Seoul (Jamsil-dong),
Forestar Hotel 2
is conveniently situated within a 5-minute drive of
Bongeunsa Temple
and
COEX Convention and Exhibition Center
. This modern hotel offers a prime location for both leisure and business travelers.
With its close proximity to Bongeunsa Temple, guests can easily explore the rich cultural heritage of Seoul. This ancient Buddhist temple, founded in 794, is renowned for its beautiful architecture and tranquil atmosphere. Visitors can immerse themselves in the serene ambiance and learn about the temple's historical significance.
Additionally, COEX Convention and Exhibition Center is just a short drive away from the hotel. This world-class facility hosts a wide range of international conferences, exhibitions, and events. Business travelers will appreciate the convenience of staying at Forestar Hotel 2, allowing them to seamlessly attend or participate in any scheduled activities at COEX.
For nature enthusiasts, Namsan Park is a must-visit destination, located only 6.7 mi (10.7 km) from the hotel. This sprawling park offers breathtaking panoramic views of Seoul's skyline and boasts an array of walking trails, gardens, and recreational areas. Visitors can embark on a leisurely hike to the summit of Namsan Mountain and enjoy the picturesque scenery.
Moreover, history buffs will be delighted to know that Dongdaemun History and Culture Park is a mere 7.2 mi (11.6 km) away from the hotel. This iconic landmark showcases the rich heritage of Seoul, featuring historical relics, traditional Korean architecture, and fascinating museums. Guests can immerse themselves in the vibrant culture and gain a deeper understanding of the city's past.
At Forestar Hotel 2, guests can expect comfortable and well-appointed accommodations. The hotel offers a variety of room options to suit different preferences, ranging from cozy standard rooms to luxurious suites. Each room is thoughtfully designed with modern amenities and provides a peaceful retreat after a day of exploration.
In addition to its convenient location and comfortable rooms, Forestar Hotel 2 offers a range of facilities and services to enhance the guests' stay. The hotel features a stylish restaurant, serving delectable international and local cuisines, as well as a cozy bar where guests can unwind and enjoy a refreshing beverage.
Furthermore, the hotel provides excellent amenities such as a fitness center, allowing guests to maintain their workout routine while traveling. For those seeking relaxation, a spa and wellness center is available, offering rejuvenating treatments and therapies to promote wellness and rejuvenation.
With its prime location in Seoul's vibrant Jamsil-dong neighborhood, Forestar Hotel 2 is the ideal choice for travelers seeking convenience, comfort, and a memorable stay in the city. Whether exploring cultural landmarks, attending business events, or simply enjoying the charm of Seoul, guests will find everything they need at this exceptional hotel.
Hotel Forestar 2 location:
Places of interest near the accommodation
If you are staying at Hotel Forestar 2, located in the beautiful neighborhood of Songpa-gu in Seoul, South Korea, you are in luck. There are several touristic places nearby that you must explore during your stay. Here is a list of some of the must-visit attractions:
Seoul Olympic Park: A true gem of the city, Seoul Olympic Park is just a short distance away from Hotel Forestar 2. This sprawling park was built for the 1988 Summer Olympics and offers a serene escape from the bustling city. Take a leisurely stroll, rent a bike, or simply relax and enjoy the beautiful surroundings.
Lotte World Tower: For breathtaking views of Seoul's skyline, head to Lotte World Tower. This impressive skyscraper stands tall at 555 meters and is home to various entertainment options, including an observation deck, shopping mall, and even a theme park. Don't miss the chance to capture stunning panoramic photos of the city.
Bongeunsa Temple: Immerse yourself in the tranquility of Bongeunsa Temple, a Buddhist temple located in the heart of Seoul. This ancient temple, dating back to the 10th century, offers a peaceful retreat away from the bustling city streets. Marvel at the intricate architecture, explore the serene gardens, and experience a traditional Buddhist ceremony.
COEX Mall: If you are looking for some retail therapy, head to COEX Mall. This massive underground shopping complex offers a wide range of shops, boutiques, and restaurants. Whether you are in search of high-end fashion or unique souvenirs, you are sure to find it here.
Hangang Park: Located along the banks of the Han River, Hangang Park is the perfect place to unwind and enjoy the outdoors. Take a leisurely bike ride, have a picnic by the river, or simply enjoy the stunning views. With various recreational facilities and beautiful walking trails, this park offers something for everyone.
These are just a few of the many touristic places to explore near Hotel Forestar 2. Make the most of your stay in Seoul by visiting these attractions and creating unforgettable memories.
– MAKE YOUR RESERVATION AT THE LOWEST PRICE –
---
23-6, Baekjegobun-ro 7-gil, Songpa-gu, Seoul, 05557, South Korea