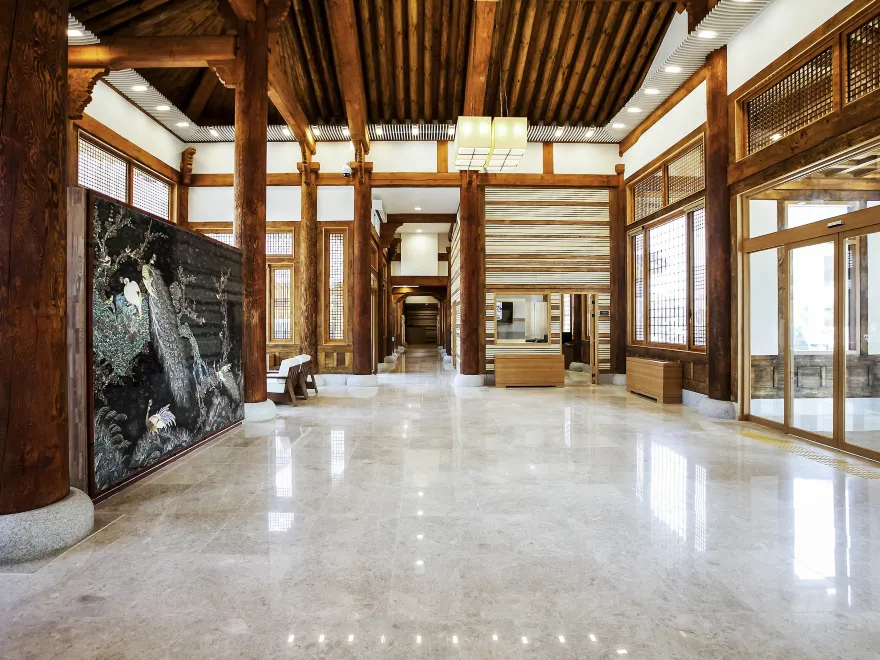 Gyeongwonjae Ambassador Incheon – Associated with Accor is a 4.5-star hotel centrally located in Incheon. Situated just a 3-minute walk away from the NC Cube Canal Walk, guests can easily access this popular shopping destination for a delightful retail therapy experience.
For nature enthusiasts, Gyeongwonjae Ambassador Incheon is conveniently located only a 7-minute walk from the picturesque Songdo Central Park. This expansive urban park offers a serene environment with beautiful walking trails, lush greenery, and stunning waterfront views.
Travelers interested in sustainable development and environmental initiatives will be pleased to know that the Green Climate Fund office is a mere 0.5 mi (0.8 km) away from the hotel. Visitors can explore this global institution dedicated to supporting projects and programs that combat climate change.
Another notable landmark in close proximity is the Songdo Convensia Convention Center, situated just 0.8 mi (1.2 km) from Gyeongwonjae Ambassador Incheon. This state-of-the-art venue hosts a variety of conferences, exhibitions, and events, making it a hub for business professionals and event-goers alike.
With its prime location and outstanding amenities, Gyeongwonjae Ambassador Incheon – Associated with Accor provides guests with a harmonious blend of luxury, convenience, and accessibility. Whether you are seeking a vibrant shopping experience, a tranquil escape in nature, or engaging in global sustainability efforts, this hotel offers an exceptional stay in Incheon.
Gyeongwonjae Ambassador Incheon Associated with Accor location:
Places of interest near the accommodation
Gyeongwonjae Ambassador Incheon Associated with Accor
is a luxurious hotel located in 200 Technopark Ro, Yeonsu-gu, Incheon, 22004, South Korea. Situated in the vibrant city of Incheon, there are several touristic places that visitors can explore and enjoy during their stay.
One of the must-visit attractions near Gyeongwonjae Ambassador Incheon Associated with Accor is Incheon Grand Park. This expansive park offers a serene escape from the bustling city life. Visitors can take a leisurely stroll, have a picnic by the lake, or even rent a bicycle and explore the park's beautiful surroundings. The park also features various facilities such as a zoo, botanical garden, and a sculpture park, making it a perfect destination for families.
For those interested in history and culture, a trip to the Incheon Landing Operation Memorial Hall is highly recommended. This memorial hall commemorates the heroic efforts of the United Nations forces during the Korean War. Visitors can learn about the historical significance of the Incheon Landing Operation through informative displays and exhibitions.
Located nearby is the Songdo Central Park, a picturesque park known for its stunning waterfront views. This park is the perfect spot for a leisurely walk or a picnic. It also hosts various cultural events and performances throughout the year, providing visitors with a chance to immerse themselves in the local culture.
If shopping is on the agenda, the Triple Street shopping complex is just a short distance away. This modern shopping mall offers a wide range of international and local brands, along with numerous dining options. Visitors can indulge in some retail therapy or savor delicious Korean cuisine.
For those looking for something more adventurous, a visit to Wolmi-do Island is highly recommended. This small island is known for its amusement park, Wolmi Theme Park, which features thrilling rides and attractions. Visitors can also take a scenic cable car ride to enjoy panoramic views of the city and the surrounding islands.
– MAKE YOUR RESERVATION AT THE LOWEST PRICE –
---
200 Technopark Ro, Yeonsu-gu, Incheon, 22004, South Korea